Our company, COSTAS CALTSOYIAS S.A., is one of the oldest companies in the food sector, operating as commercial agents for more than 60 years, representing  in the Greek market the biggest food companies from all over the world.
Since the very beginning, the main concern of our founder, Costas Caltsoyias, was to ensure that the companies he represented were serious and trustworthy.
Our founder Costas Caltsoyias
1965: With Bergader's van at the Acropolis
Costas Caltsoyias at Sealord's stand
1995: At the facilities of Vikos company
2010: Mr. Haris Alexiou with the successors of the company, Periklis and Constantinos Alexiou
With our partners from MMP
Decades ago, at Bergader's stand 
At a fair in Cologne back in 1988.
2003: An older team composition of Caltsoyias S.A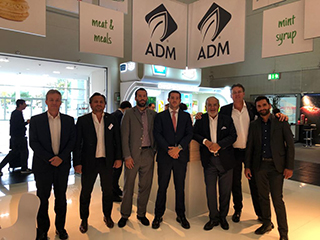 2015 at the stand of ADM-WILD
Costas Caltsoyias working
1992: Diploma to Costas Caltsoyias in recognition of his services to the trade relations between Denmark and Greece.
1957 One of the first major co-operations was with TAIYO FISHERY Co. Japan (his connections with TAIYO initiated in 1957).Thousands of cartons of Canned Mackerel filled the Greek market. This was just the start.
1977 Established as an S.A. (Α.Ε.) company, 100% family owned.
1977 The business flourished when ALLIANCE , frozen Lamb producers of New Zealand, and DOFO, dairy products of Denmark, were introduced into the Greek market.
1978 Begins the cooperation with Danish Crown.
1982 Established NAKO S.A. to serve the needs of C. Caltsoyias S.A
1984 Mr. Haris Alexiou joined the family company.
1986 Established Geniki Trofimon S.A. to import and distribute about 5.000 tons dairy products of MD Foods/Denmark represented by C.C. S.A.
1987 Nea Agrotica was founded to serve the cooperation between Simplot/Turkey and C.Caltsoyias S.A.
1992 Caltsoyias company has been awarded from the Royal Family of Denmark for promoting the trade relations between Denmark – Greece.
1992 – 1998 Geniki Trofimon S.A. (49%) together with MD FOODS (ARLA) (51%) create a joint venture: MD FOODS CALTSOYIAS HELLAS S.A. Cheese Import and distribution company
2009 Alexiou Periklis joined the company
2010 Moved to new owned office
2011 Alexiou Konstantinos joined the company
2013 The start of our cooperation with Svila (pizzas from Italy)
2013 We started representing the dairy factory Gmundner Molkerei (Austria).
2013 Our cooperation with Molkerei Gropper began (Germany)
2015 A new business relationship just started with Oettinger Brewery (Germany).
2020 We started representing Jamones Blazquez (jamon products, Spain )